Are you looking for a perfect gift for the traveler woman in your life? We all get them from time to time, those gifts that we have don't know what to do with. It ends up on a shelf somewhere. Finally we do find a use for it, or we decide to toss it out. I try to be more thoughtful when I give gifts. What would the receiver like? What could be useful for them in their day to day life? Of course it's different for everybody. Nevertheless, we all can find use for things in and around the house. That's why today, after my 'what to wear – a stylish gift for women who love travel' list, I'm sharing with you my perfect candidates for the perfect gift for the traveler woman – the home items edition.
2022 Her Adventures Calendar: A Moment I Was Perfectly Happy

Get inspired by the Her Adventures community each month of the new year with the 2022 HERA calendar! 12 months of photos from Her Adventures members that capture "a moment I was perfectly happy." Be inspired with stunning photos from around the globe that capture the beauty of our planet and our world. Bring travel and some much needed good vibes into the homes of your loved ones.
The perfect gift for traveler woman – throw pillows Designed by HERA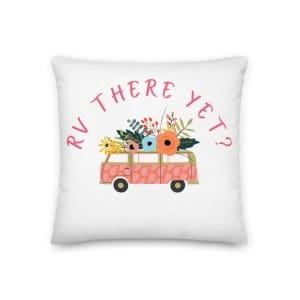 I'm a pillow person. On the couch, in my bed and even in the car when going on a road trip. I love the ones with prints and designs. Travel themed pillows are my favorites. The HERA design team made three awesome designs, and it is hard to decide with one to buy! Will you lounge on your couch and use 'always take the scenic route' as a reminder? Or will you rest comfortably on the perfect-for-camping 'RV there yet?' pillow? My favorite is definitely the Amelia Earhart design!
All these designs add a splash of color to your life and make any room luxurious. What makes them even more perfect for use is a hidden zipper that allows you to easily wash the covers. No worries that the case won't fit after, it's made with a 100% pre-shrunk material. Every single one is the perfect gift for traveler woman!
Her Adventures Stainless Steel Water Bottle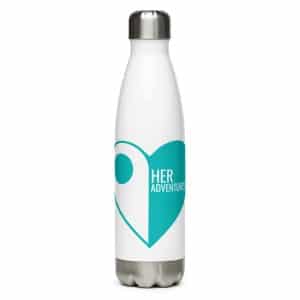 Our mission for 2022 as responsible travelers is to minimize waste. Make it your mission to inspire others to throw away as little as possible. One of the easiest ways to do that is to make sure everybody around you has a reusable water bottle to take on their next adventure.
The Her Adventures double-walled stainless steel water bottle is perfect for daily outings. It will keep your water hot or cold for hours. And that's not all! It also features an odor- and leak proof cap. This bottle is perfect to take on a hike, on your next carried or to have with you in your bag for any time you get thirsty. A perfect gift for the traveler woman in your life!
RV there yet? embroidered apron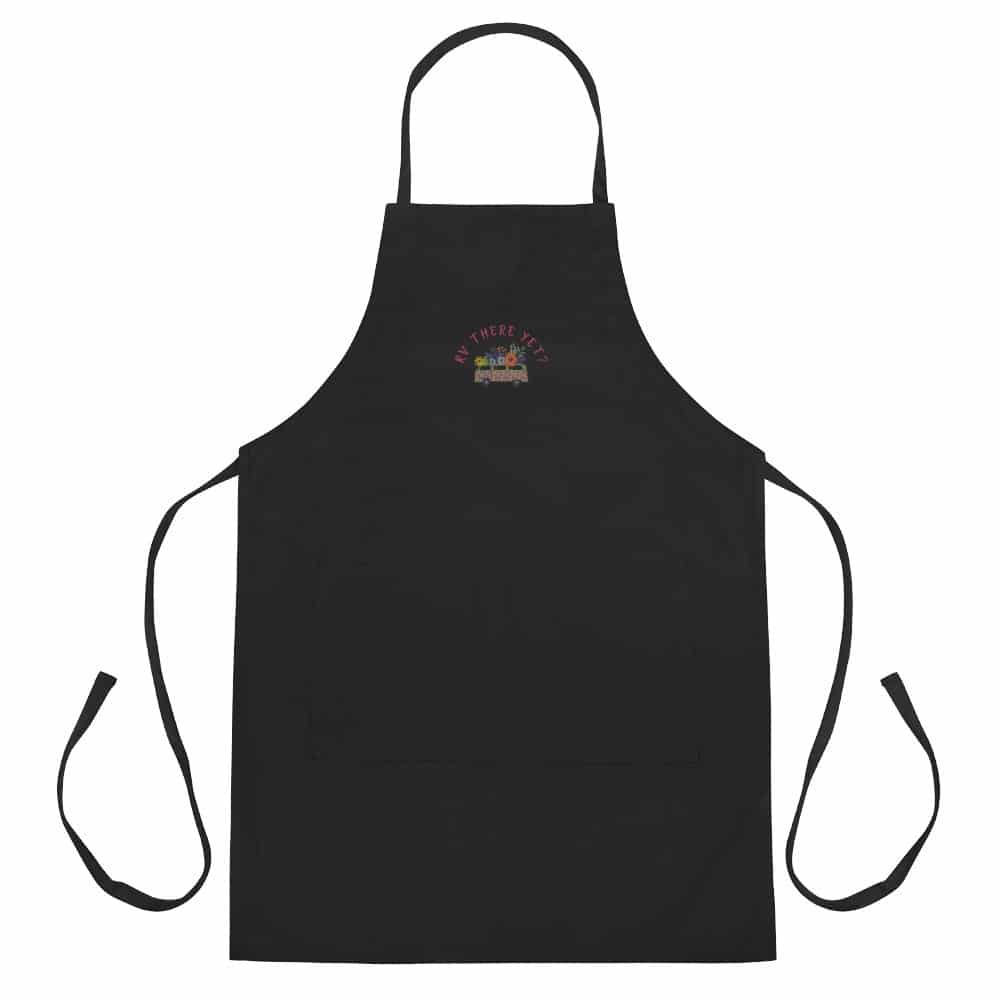 When exotic adventures aren't a possibility, I really enjoy going on culinary trips in the comfort of my own home. I get inspired by Devan's cooking show in the Her Adventures community, cooking books with recipes from around the world, or I try to remake something that I had during one of my travels. And all the cooking and baking needs to happen in style, of course.
Are you looking for a gift for the traveler woman who loves to cook and going on adventures? Then the 'RV There Yet' apron is the perfect gift. This apron will make sure that all clothing stays stain-free. The neck loop and long ties, two front pockets, and intricate embroidery in front all come together in an eye-catching and comfy accessory that'll make everybody long for more time in the kitchen.
She traveled without waiting for others white glossy mug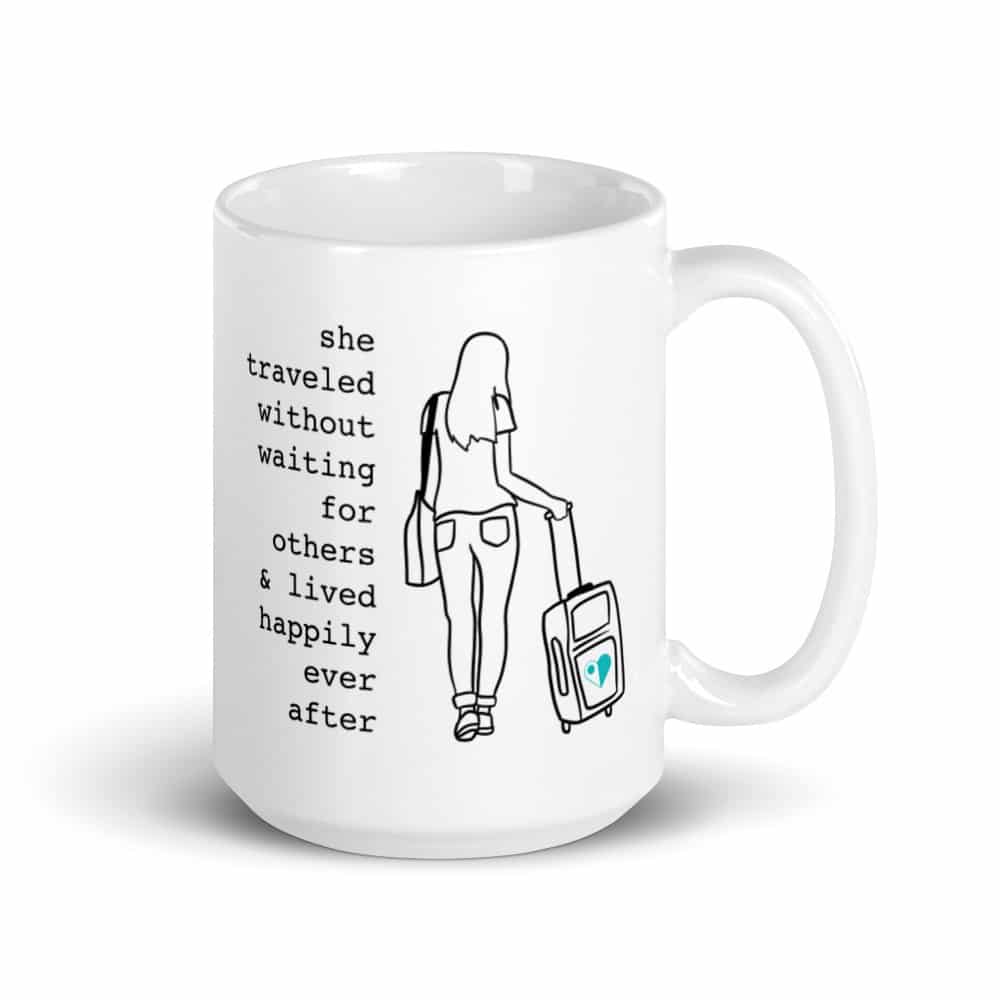 Making a statement with my clothing, home décor and accessories is something that I really like to do. This way I can show where my passions lay, and people get a good impression of me when they meet me or walk into my home. The 'she traveled without waiting for others' mug embodies the Her Adventures spirit of not letting anything stop us from taking our adventures! Whether you're looking for a gift for a morning coffee lover, a fan of tea in the evening or someone that enjoys other hot beverages – this is the mug to give!
Do you like large mugs? You can get these mugs in 11 or 15 oz. It's sturdy and glossy with a vivid print that'll withstand the microwave and dishwasher. Also good to know: this mug is designed by Her Adventures member Graceleen, and 100% of purchase proceeds support her and her work.
Travel gifts for women
All ready to shop for the next gift giving moment? We can't wait to see what you are gifting your loved ones. You can find more amazing items in the HERA Shop. The HERA design team is adding new designs and items often, so definitely take a look once in a while, and don't miss the perfect gift for the traveler woman in your life!
Martine is from the Netherlands. Six months of the year she travels with her husband who works on a cruise ship. When she isn't exploring new places she loves to read, write postcards, and crochet. You can follow her on Instagram as @martinemuis, on her blog, or watch her video's on youtube.