Girls Who Travel is starting a new series highlighting LGBTQ women in the travel world. We're kicking the series off by featuring LGBTQ Instagrammers you should be following!
5 LGBTQ Instagrammers You Should Be Following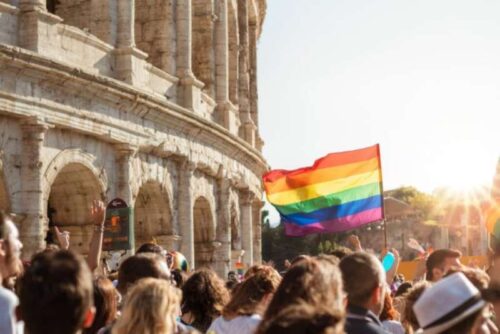 Dit bericht bekijken op Instagram
The Queer Muslim Project started in 2017 to advocate equal representation and inclusiveness for queer Muslims and also how to navigate through culture and identity. Their motto is 'Countering queerphobia and Muslim hate, one story at a time!'.
Dit bericht bekijken op Instagram
Introducing Laura and Camrin, who joined many people who sold their belongings and planned to live life on the road. 2018 was the year they lived in a jeep with a roof top tent while traveling North America. Life on the road may be over for now, but they still post the most amazing pictures.
Dit bericht bekijken op Instagram
Lindsay is documenting it all, with her camera and pen. She is the introvert travel blogger and adventure-seeker that you want to follow. Also, she runs Lesbian travel blog DopesontheRoad.com.
Dit bericht bekijken op Instagram
Meet Sadé and Sam, whose breathtaking photos of their journeys to the most inspiring places bring some much needed joy to our feeds. Follow them on their adventures in love, life and travel.
Dit bericht bekijken op Instagram
Less talk, more travel. That's Leslie's life quote. As she says herself, 'An introvert (Less Talk!) who is also super gay (Lez Talk!), and loves to travel (More Travel)! She shows the most weird, wonderful and gay places in and out of the Pacific Northwest.
We hope you find ALL the travel inspiration from these gorgeous gal's Instas. Keep an eye out for the rest of our series, which will feature LGTBQ-led travel podcasts, businesses, and blogs!
Do you have a favorite LGBTQ Instagrammers you follow? Drop it in the comments below! Also, check out these 20 great LGBTQ friendly travel destinations!
Her Adventures is an education and empowerment community dedicated to helping women explore beyond their boundaries. We welcome all people who identify as non-masculine/non-male to connect, educate and inspire each other with their stories, fears, knowledge, questions, and ideas. Because together we make each other strong. We hope you will join us and see the world.