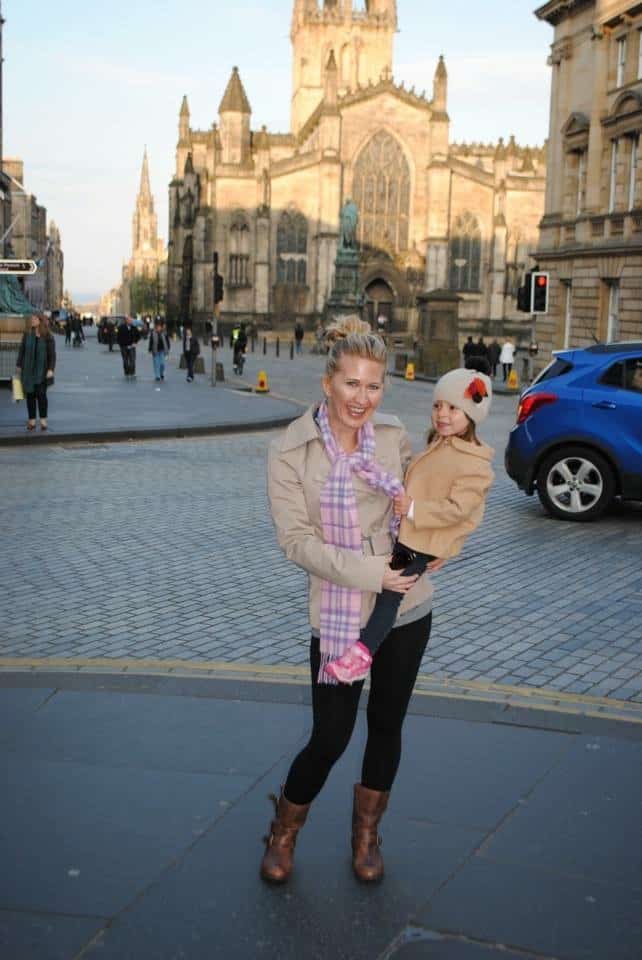 When my husband suggested we begin our British adventure by renting a car in Edinburgh and take our time winding through the English countryside down to Brighton, I shrugged, arms crossed in sullen agreement. How could I possibly travel to England without at least a stopover in my favorite shopping mecca of Knightsbridge?
Knowing nothing about Edinburgh, I Googled it. Funny enough, the first link I came across was a breathtaking video of Karl Lagerfield's Winter 2012 couture collection on parade through the ruins of Linlithgow Castle, the birthplace of Mary Queen of Scots, and just minutes outside the city. Hmmm, I thought. If it was good enough for Chanel, it may well be worth a visit. With a lurch in my pulse, I decided to delve deeper into my research. On Youtube, our toddler, Sophie, and I discovered a tattoo of bagpipers and drummers marching up and down in front of Edinburgh Castle at sunset. She insisted on watching this same video about a hundred times a day. The haunting music brought tears to my eyes each time. Suddenly, I couldn't wait to go.
After checking into the Waldorf Astoria, we bundled up and set out on foot to explore the glorious architecture on display. The Victorian and Neoclassical structures and statues mixed in amongst the Gothic steeples glistening in the late afternoon sun. We followed a narrow winding road up a hill, stopping along the way to listen to the lone bagpipers on every corner.
As we neared the top, I swore I could hear the familiar beating of drums in the distance. I insisted we hurry, and although my husband looked at me as though I was crazy, we quickened our pace. Through the forest of stone buildings, we burst into a clearing where right in front of us rose Edinburgh Castle. A massive tattoo of bagpipers and drummers marching in formation out front, the sun setting over the hills. Just like in the video. The look of surprise on Sophie's face was priceless, and tears sprang to my eyes. This was one of my top five moments in life, a memory that will never be forgotten.
The rest of our stay in my new favorite city was just as remarkable. Although we strayed from haggis, we did spend an evening at the famous Witchery, gorging on bangers and mash, and struggling to choose from the gorgeous wine list. The boutique shopping was even more memorable than Knightsbridge, unearthing treasures such as tartan sarapes, wool blankets, kilts, cashmere, tweeds, and scarves to bring home as gifts; and oh, the old hidden bookstores where one could lose oneself for days! Sophie and I climbed the narrow stone stairs to the top of Linlithgow Castle, overlooking the loch. We explored Edinburgh Castle and Sophie tried meatballs for the first time at a corner pub.
When it was time to drive on to our next destination, I shrugged, arms crossed in sullen agreement. How could I possibly leave one of the most charming places I'd ever visited on earth? Edinburgh will always have a special place in my heart, and I can't wait to return. Put it on your list of not to miss!
Sarah Rose